Moonpig launches body heat activated cards to get temperatures rising this Valentine's Day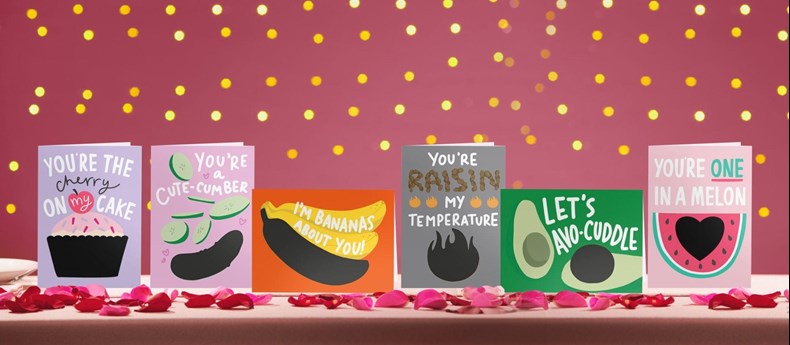 Moonpig is giving our favourite fruits a BERRY different meaning this Valentine's Day, with a limited edition range of cards to encourage Brits to get hot and steamy. The exclusive cards feature a unique twist - heat-reactive technology, which reveals secret juicy messages once body heat is applied.
Guaranteed to get temperatures rising, the range of six cards will help Brits embrace their inner passion(fruit)... with hidden messages that are certain to get pulses racing and encourage embracing. The good news - when cooled down, the cards can remain on display and are perfectly PG when you need them to be.
On the surface the card might read 'I'm bananas about you', however apply heat to the hidden section and a saucy note will appear saying 'So why don't you peel back my clothes?'. Or if it's superfoods that get you in the mood, choose the card that opens with 'Let's Avo-cuddle', before revealing the word 'NAKED', once body heat is applied.
Sarah Jane Porter, Head of Cards at Moonpig comments: "Our new range of cards looks to get pulses racing this Valentine's Day, with heat-reactive technology revealing cheeky messages for the reader's eyes only! The limited edition, extra fruity, cards are perfect for those who want to add a little heat to Valentine's Day - and are guaranteed to impress."
The heat-reactive cards are available for pre-order from Wednesday 2nd February for delivery from 9th - 12th February 2022. For only £3.49, you can make your partner's Valentine's Day a lot more fiery:
https://www.moonpig.com/uk/blog/stories/valentines-heat-reactive-cards/
Moonpig has everything couples need to bring the romance back this Valentine's Day. From flowers to the perfect gifts, you can find everything you need here: https://www.moonpig.com/uk/valentines-day/