Moonpig partners with Hunsnet to launch hun inspired range of birthday cards
NEW RESEARCH SHOWS 30 IS THE AGE YOU HIT 'PEAK HUN' STATUS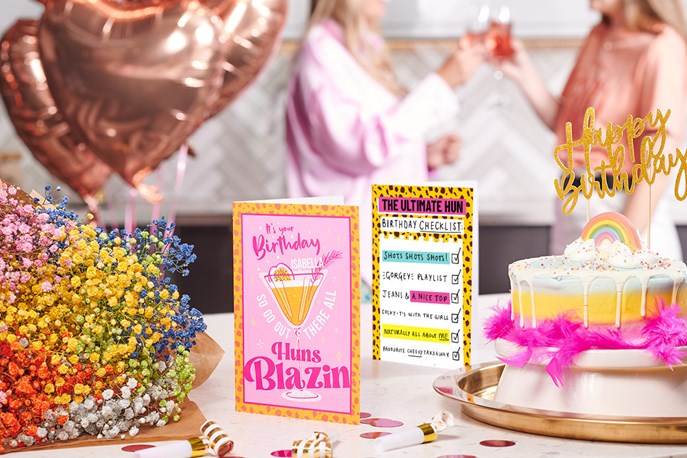 Like leopard is to print, and jeans are to a nice top…some things in life just pair perfectly together. And now, huns of the nation can rejoice as Moonpig and Hunsnet have joined forces to launch a brand-new range of hun inspired cards to celebrate the ultimate babe in your life, on birthdays and beyond.
Teaming up with the pioneers of hun culture, Moonpig & Hunsnet have collaborated on a brand new range of cards that are perfect for sending to the hun in your life. This new and iconic duo have trawled through the Hunsnet archives to ensure the nation's most hunnable phrases, and authentic hun traits, feature across the new designs.
Available exclusively on Moonpig from 13th July, the five new cards feature a range of gorge-y animal print designs, and include an 'Ultimate Hun Birthday Checklist' to inspire the most hun-filled birthday (a cheeky take-away and shots with the girlies are a MUST). While another features one of the most iconic phrases in hun culture – 'You Do You Dallyn', with the wording emblazoned against a hun-tastic yellow leopard print background, perfect for sending on any occasion.
The collaboration also includes a selection of gifts that are perfect for those wanting to go the extra mile to spoil the hun in their life. The 'Spill The Tea Hun' mug & 'You Bouquet Hun' multi-coloured bunch of blooms are the perfect addition to any card from the range to make their day even more hun-tastic!
As part of the launch, Moonpig and Hunsnet commissioned research* delving into current hun culture to find out what age represents the pinnacle of one's hun journey.  Respondents deemed 30 to be when Brits reach peak hun status (according to 11% of respondents) and the start of a lifelong journey fuelled by pink, leopard print and prosecco. To mark this milestone moment, the new range features a card in homage to this special age with an editable design which reads: 'The Qween of Huns is turning 30'.
For those wondering how a hun (whether they're turning 30 or another age) celebrate their birthday you may ask? A cheeky takeaway from Nando's or Greggs of course, with 27% of respondents choosing this option. Whilst getting acrylic nails done for a big night out (20%), and getting shots (19%) are both also firmly on the birthday agenda.
We're thrilled to have teamed up with Hunsnet – the ultimate authority of all things Hun - for this brand-new range of cards. We know that Hun culture is one that many people relate to or even simply just enjoy engaging with, and so we think this range of cards perfectly encapsulates this movement. We hope it helps the Huns of the nation celebrate their birthday - and many other occasions - in true Hun style!

Sarah-Jane Porter Moonpig's Global Design & Licensing Director
The research also highlights how over a quarter of Brits (27%) – equating to almost 11 million adults** – say they now consider themselves a hun, living a life of fabulousness and being unapologetically themselves. This rises to 25 million** who admit to having at least one 'hun' trait, such as enjoying a glass or three of prosecco or watching wall-to-wall daytime TV.
The findings also crown fearless and fabulous Gemma Collins (21%) - known for giving the world phrases like "You ain't ever gonna get this candy" - as the nation's very favourite hun, followed by Stacey Solomon (20%) and Victoria Beckham (20%).
Working with the Moonpig team has been so much fun! I got to put my design hat on and look through the archives to make the collaboration as Hun as it possibly could be, from our iconic leopard print design to some of my all-time favourite Hun catchphrases. It was a dream come true to create the range and it's what all my dallyns out there need in their lives to spread the Hun joy to their nearest and dearest.

Gareth Howells Founder of Hunsnet
The new Moonpig x Hunsnet range features a range of five brand new card designs, a multi-coloured bouquet of flowers and a very aptly named mug, priced at £10 To view the range and find out more information please visit: You can also shop a wider range of gifts perfect for the hun in your life here.